Officially announcing the contest for my customers!! I love you girls and guys so I want to give back! It's been a great almost 6 months of jewelry blogging! It has not been easy that's for sure. I wouldn't still be going if it wasn't for you all. :) Thank you thank you!
This contest is rather unique so you'll need to read all the rules and qualifications.
The basics of this contest are that I want you to re-purpose your jewelry boxes (shown below) into something useful. It can be ANYTHING but it has got to be creative and actually useful. You can do one or a bunch or use a bunch together. It's free reign!
You have free reign to use any part of the "packaging" that I give you including the ribbons! You've seen my creative side and I want to see yours!
This is open to past and future customers or people who have received Julu Jewelry as gifts :) Open worldwide!
You will need to email me the photos (2 minimum) and after the deadline I will post them all in a blog post ready for you all to vote on. DEADLINE APRIL 11, 2009, midnight CST. That's two full weeks girls! You will be sent a confirmation email with a free shipping code within 1-2 days for entering. :D
It would also be a good idea to post what you did on your blog too. That way when it's voting time you'll have some followers to vote for you!!
The PRIZE? Your choice of an acrylic necklace holder OR acrylic earring rack. I think these look really cool all clear. I know that when I put my jewelry away in a box I am less likely to wear it. I want to encourage you to wear it! I'll also send you little tarnish strips that will keep the enclosed area tarnish free for months.
What else? another prize OPTION- you can choose any item in my store up to $20. :) For the ladies who already have awesome jewelry storage. So it's either jewelry or an organizer.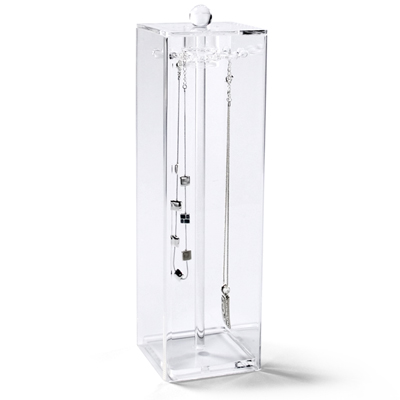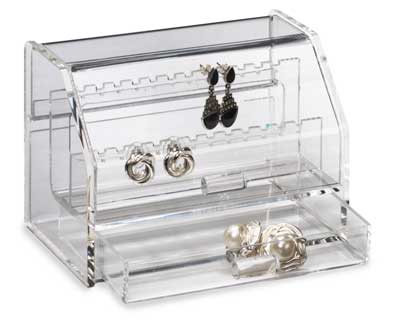 Btw, don't just buy kraft boxes from the store and make something. It's gotta be something from me! :)
If you have any questions, let me know! Good luck and I can't wait to get those emails!